Woke up around 8.30am. Later around 9am our breakfast is serve in our room. The hotel only got 2 menu for breakfast either continental or local. Every morning is the same thing.
Maggi goreng and fried egg with orange juice. (local breakfast).
After breakfast we go to visit the supplier. Today i got the chance to see their carving skill. Their carving skill is very good and all the carving is very detail.
This guy do the flower carving for the arm chair head rest. One day he manage to carve 5nos and he do it very fast. All the teak wood furniture are hand made and their usage of machine is very less. While i was visiting this kind of place, my mind was thinking how about these people health?. Everyday they work and smell the wood dust and even their kids also. I never see got any of them wearing the face mask while working. I hope that the GOD will bless them because they really do the hardwork and their life there is very poor. Hardly for me to see their house got fan. I saw only 2 supplier out of 30 that have standing fan at their house.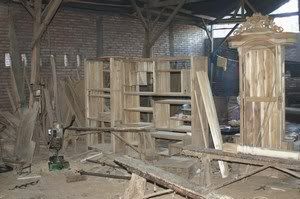 This kind of view is almost all the same when you visit the teak wood shop. The place is very dusty. In another word, maybe can name it as a "CITY of WOODDUST".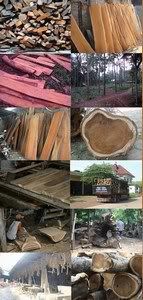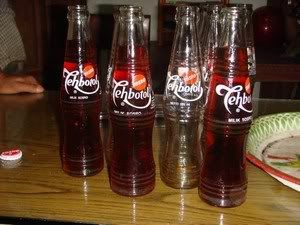 When ever we go to visit the supplier, they will serve us mostly Teh Botol SOSRO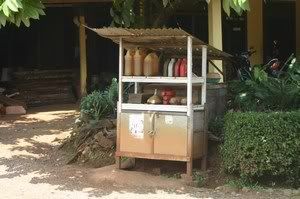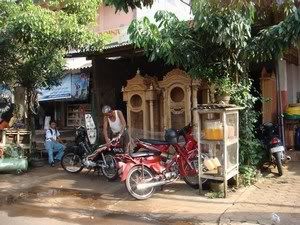 At Jepara there are alot of this small stall at the roadside selling petrol. But the petrol price is double compare with the petrol station you pump at the town.
when we was visiting the supplier, suddenly i saw a shop selling BEER. I just walk in and to my suprise they sell beer in a drum. The local beer called "Bintang Draft". We bought a drum and share. This is how we buy beer at Jepara.....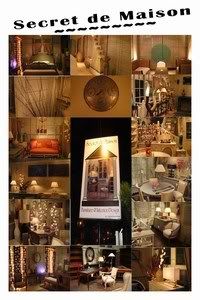 At night after dinner, we go visit a showroom own by foreigner. The accessories item all very nice.
Before going back to hotel, we drop by at a supermarket to buy extra beer and groundnuts since we are already there. The nuts is very ho chiak, once you pop you can't stop.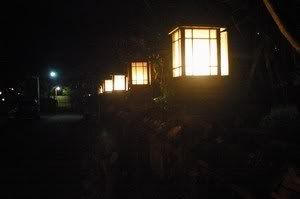 Night view outside our hotel.